How does the Intacct Integration work?
Abacus has a direct integration with Intacct. This means that we can sync expense data directly into Intacct, no export or import required! 
When data syncs to Intacct, each expense will be automatically booked to the correct expense account, eliminating lots of manual data entry. Abacus can also sync to Class, Department, Location, Customer, and Item information. 
How does Abacus sync reimbursable expenses to Intacct? 
For reimbursable expenses, Abacus creates a bill and a bill payment in Intacct. Every evening, Abacus will debit your company bank account for the sum of expenses approved that day. When the debit is created, we will sync a bill and a bill payment for that debit amount. 
The bills will be created in the Accounts Payable module:

Here's what an individual bill will look like: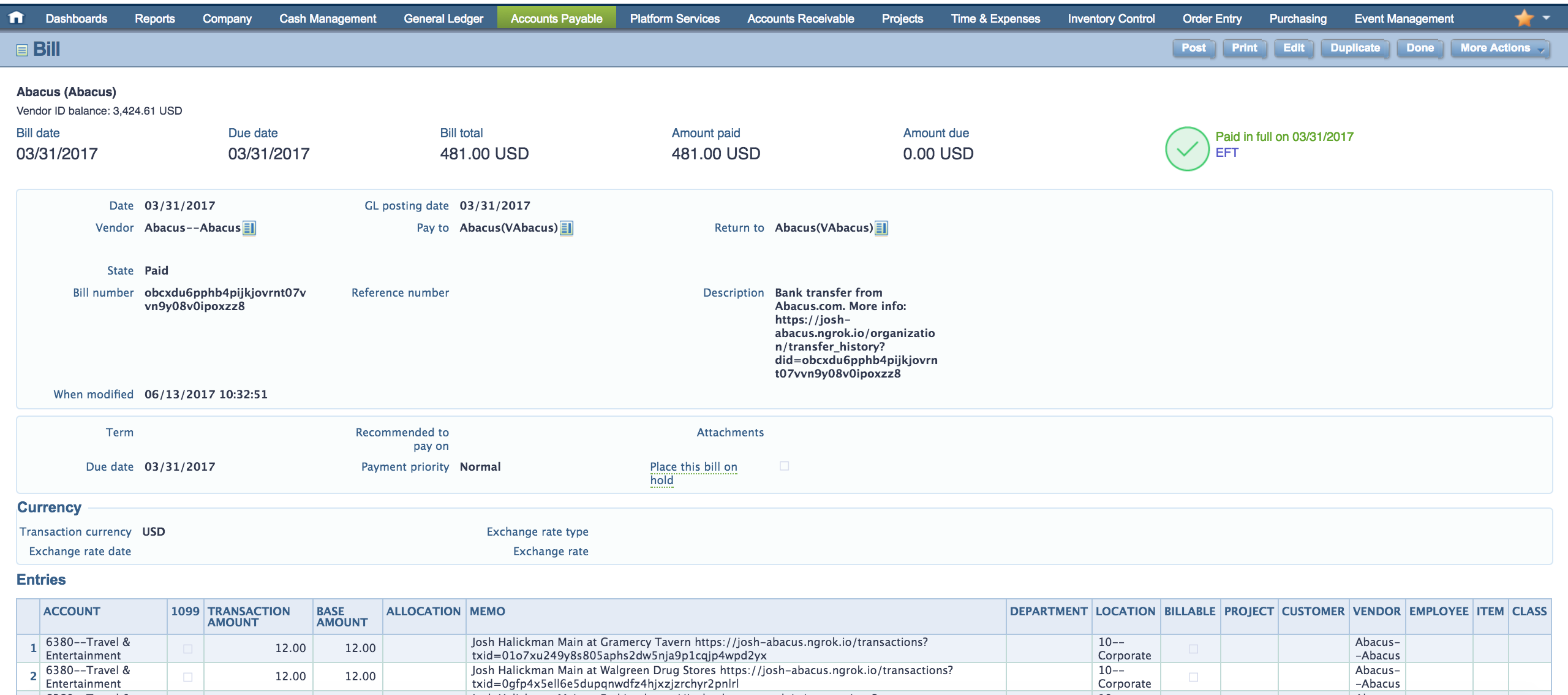 Navigate to Accounts Payable > Posted Payments to find the bill payments:

FAQ on syncing reimbursable expenses to Intacct: 
Q: Why is Abacus the Vendor on the Bill? 
A: We use a Bill and Bill Payment to make it efficient for you to reconcile to the periodic bank debits, while still giving you the full line item granularity for each expense that you need to properly roll up to the income statement, e.g. Account, Class, etc... a Bill can only have one Vendor, so Abacus is the Vendor because we're responsible for the reimbursements.
Q: How often does Abacus sync bills/bill payments into Intacct? 
A: We will sync bill/bill payments once a day, for each day that Abacus debits the company bank account. This generally corresponds with days that expenses are approved in Abacus . (A small minority of companies have scheduled debits bi-weekly or bi-monthly, in which case the bills/bill payments would only sync on those days that we make debits).
How does Abacus sync non-reimbursable Corporate Card transactions into Intacct?
Abacus syncs corporate card expenses into Intacct as Charge-Card Transactions in your Cash Management module. In your Accounting Sync settings page, you will specify which register you want your corporate card transactions to sync to. 
Navigate to the Entity connected to Abacus, then Cash Management > Credit card transactions to find the Charge-Card transactions:

And here's what an individual Charge Card Transaction looks like: 

What additional data can Abacus sync to Intacct? 
You can create custom fields in Abacus that can sync to Class, Department, Location, Customer, and Item in Intacct. 
Supported Account Types
| | | | | |
| --- | --- | --- | --- | --- |
| Account Type | Categories | Bank | Corp Cards | Corp card only |
| Income Statement | x | x |   |   |
| Balance Sheet | x | x |   |   |
| Credit cards (not exactly an account) |   |   | x | x |