Managing your Emburse Card Program as an Admin
Connecting Emburse Cards to Abacus
Once your Emburse account has been setup, you will be able to link it to your Abacus account to manage and create new card for your team.
To setup the Emburse card program in Abacus, you'll need click on the 'Add Card Program' in the 'Team Cards' page. You will then need to select the 'emburse' option in the list of financial institutions, which will route you to the emburse cards site to authorize the connection. Once authorized, you will see the card program appear in Abacus with the option to create and manage new cards.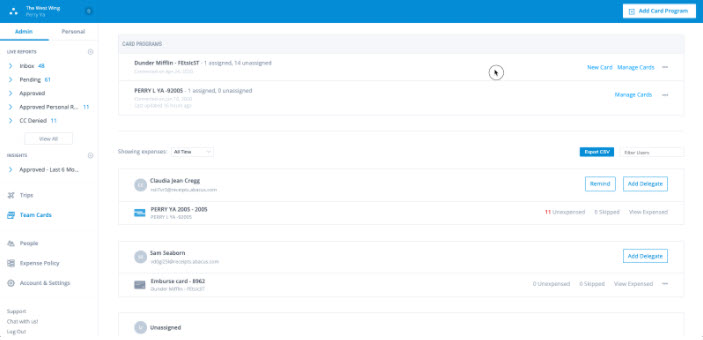 Creating New Cards
To create and assign a new card, you'll need to click on the 'New Card' option in the Emburse card program on the 'Team Cards' page.
There, you will be able to assign and name the card, as well as add any spending restrictions.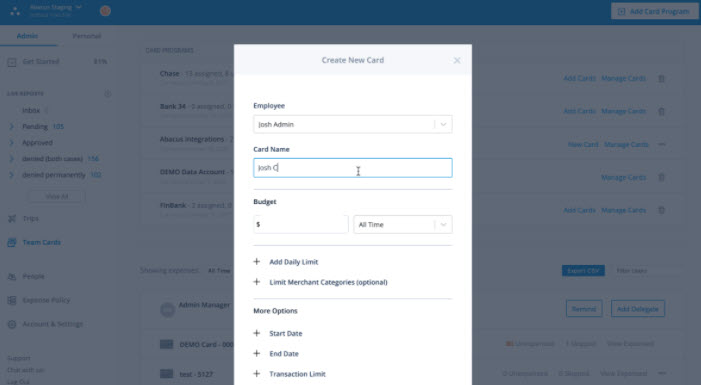 Budget - Limit how much can be spent on this card and the timeframe that limit extends to
Add Daily Limit - This will put a ceiling on how much a card holder can spend in total each day
Limit Merchant Categories (optional) - Limit the types of merchants at which the card can be used (i.e. gas stations, airlines, etc.)
Start Date (optional) - The card can be used starting on this date
End Date (optional) - Date the card is deactivated
Transaction Limit - Maximum amount that can be charged in a single transaction
You must choose to issue either a virtual or physical card. Virtual card details will be displayed in Abacus both on web and in the mobile application. The card can also be added to Apple Pay for iOS or Google Pay on Android. Physical cards will be mailed to a specified address. This can be your office or directly to the cardholder, as long as it is within the US. Once the card is activated, the cardholder can use it anywhere major credit cards are accepted.
Viewing & Editing Card Details
Once you've created the card, you will be able to view and edit the card details at any time. You can do this by scrolling down to the card, which will be housed under the assigned user's name, and clicking on the three dots that appear to the right.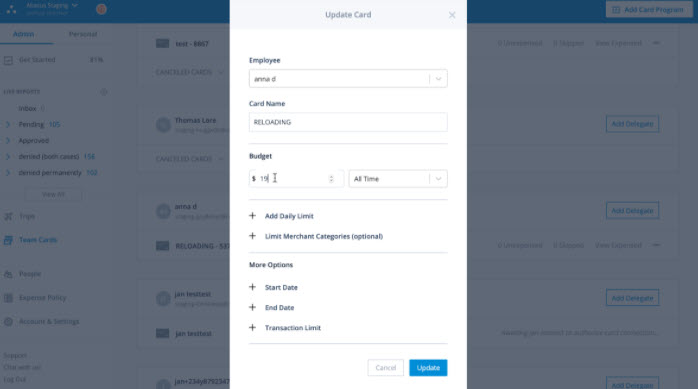 Canceling Cards
You can cancel a card from your Emburse card program in the 'Team Cards' page. You'll need to hover over the card program and click on the 'Manage Cards' option. Once you locate the card you would like to cancel, you can click on the red cancel symbol that appears to the right. Please note you will not be able to reactivate a card after it is cancelled.
If you are expecting a refund or credit to a cancelled card, the merchant will still be able to refund the transaction to the card. The refund will process and be added to your Emburse account.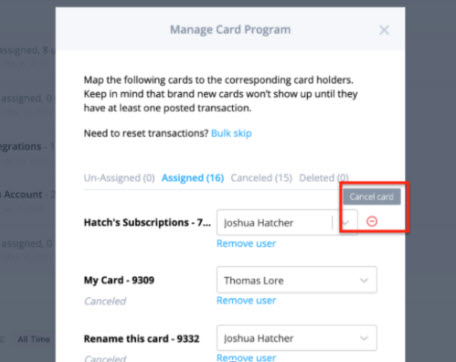 Declined Transactions
If your Emburse card is declined, you should receive a text and email notification explaining why the transaction did not go through. To learn more about why your Emburse card may have been declined, please take a look at this article.
Managing your Emburse Account
To view your Emburse card program activity, balances, statements, and to make transfers, you can click on the three dots beside the card program in the 'Team Cards' page. This will automatically route you to emburse.com, where you can complete these actions.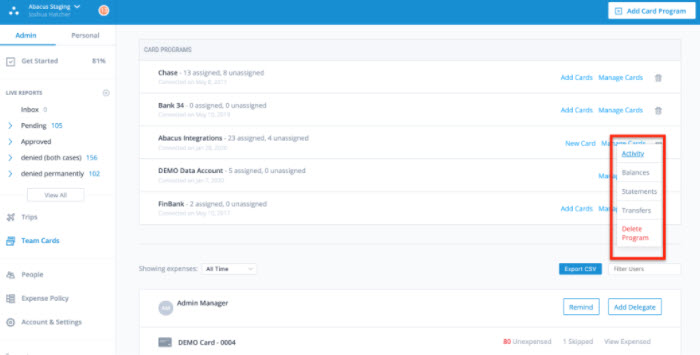 Setting Up an Emburse Card Rule
To ensure users submit their expenses in a timely manner, Admins can add Emburse Card Rules in the Expense Policy page to temporarily suspend a card. This rule can be applied for all cards in an organization or specific user.