Admin View:
As an admin, whenever you log into Abacus, you'll find yourself on the Admin Dashboard.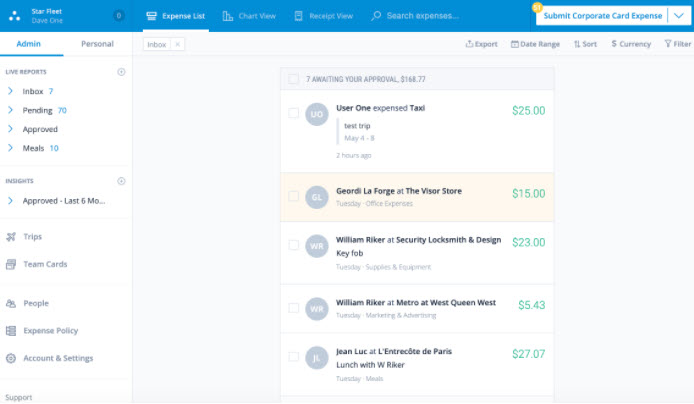 Expense Inbox
At the top of the left-hand sidebar, you will find all of your default and custom Expense Live Reports. The Inbox, Pending & Approved views contain all of the expenses for the organization, these are the default options which cannot be deleted.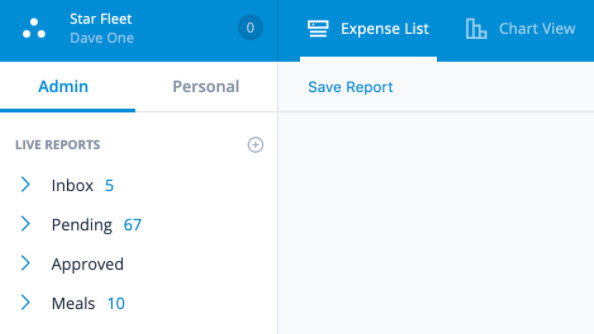 Team Cards Dashboard
If your company uses corporate cards, the Team Cards Dashboard is where you can view all corporate card activity. You can add/ manage your card programs, skip, submit or export corporate card transactions as well as send reminders to your team.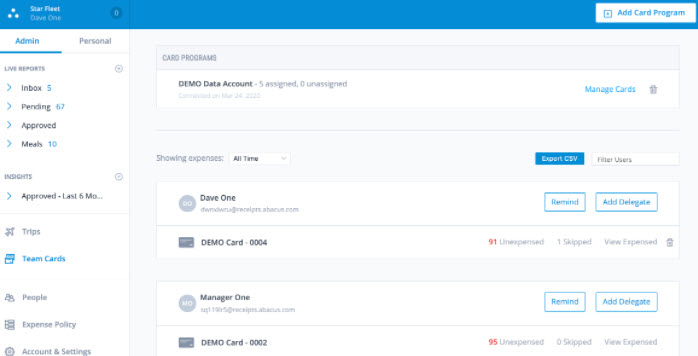 Trips, People, Expense Policy, and Company Settings Pages:
Below the Team Cards Dashboard, you will find the Trips, People, Expense Policy and Account & Settings tabs.
The Trips feature allows you to create and organize expenses related to a business trip. They help Admins monitor travel spend, as well as speed up the review and approval process.
From the People page, you can invite new members, organize users into groups, change their permissions or deactivate an account.
The Expense Policy page is where you can build custom rules, routes and display your organizations expense policy detail.
The Account & Settings page is where you will go for any organization wide settings. From here you can make changes to company information, view the bank transfer history, setup your accounting sync, manage your team, categories and custom fields.
User View:
When the user logs into Abacus they will be presented with the default Expense view. This will show expenses that are pending, completed or approved & awaiting payment. From here they can submit new expenses as well as use the Advanced Search function to filter their expenses, choosing any criteria visible to them on the expense form.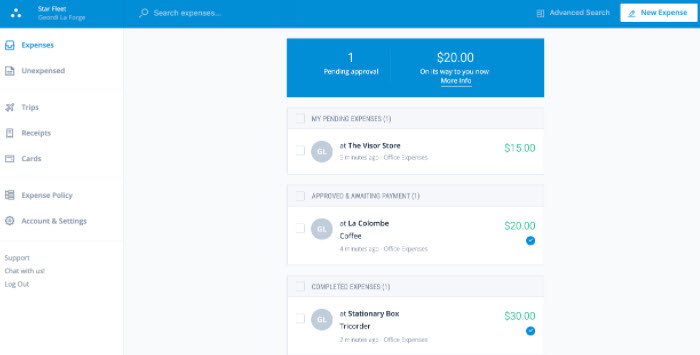 Unexpensed, Trips, Receipts, and Cards Page
At the top of the left hand sidebar on your Personal Dashboard, you will also find your Unexpensed, Trips, Receipt, and Card sections.
In the Unexpensed area Abacus will combine card transactions and receipts into suggested expenses for you to submit. We will auto-populate the merchant, date and amount from the transaction/ receipt within a few hours. We'll also auto-categorize the expense if it's a merchant we recognize from a previous expense.
The Trips feature allows you to create trips of your own or view trips created for you by your admin.
The Receipts section contains any emailed, uploaded or stored receipts for you to attach to future expenses.
The Cards page contains any credit cards that you have linked to Abacus. You can submit personal and corporate card expenses directly from your transaction list.
Expense Policy and Settings Pages
The Expense Policy Page is where you can go to view your company's expense policy.
Your Personal Settings Page page is where you can go to add a bank account, edit your email or password, adjust your notification settings, and view your bank transfer history.
Manager View:
If you are assigned as a Manager or have been included in an approval route then you will have access to the Manager View.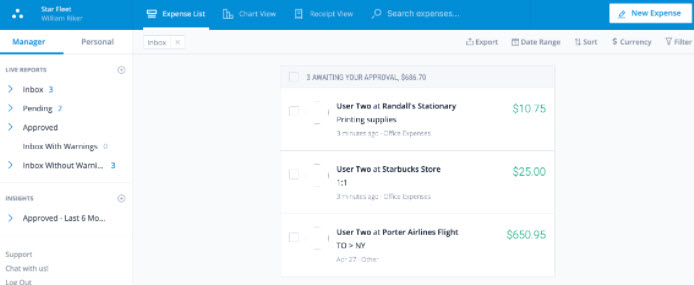 Expense Inboxes
At the top of the lefthand sidebar, you will find all of your Expense Inboxes. These contain all of your direct report's expenses, sorted by processing status. Your custom Live Reports will also appear in this area.
Delegate View:
If you have been assigned as a delegate for any other users cards then you will be have access to the Delegate view. The Team Cards tab will allow you to view and expense the cards transactions.