Use Filters to Create Live Reports
Although employees submit expenses one by one in real time (no more reports!) Admins can use our powerful filter tools to drill down to the expenses you want to approve in bulk.
Live Reports
As an Admin, you have the ability to filter expenses in your "Inbox", "Pending", or "Completed" folders. To do so, click the arrows listed next to one of the folders: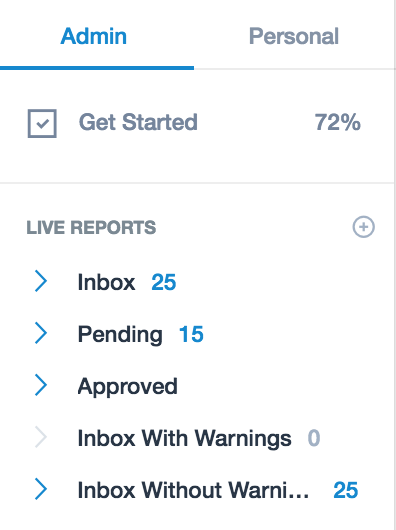 Once selected, you'll note that clicking down arrow allows you to review expenses by category, user, or any team fields you've created.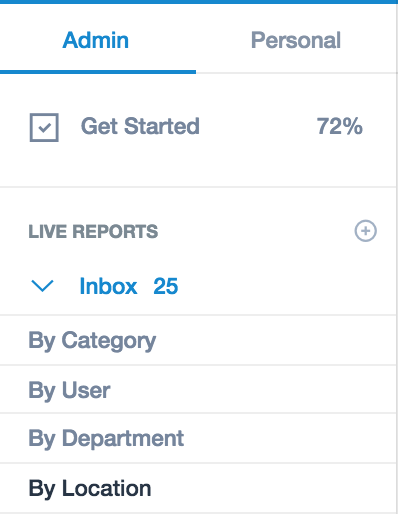 Once a criteria is selected, for example "By User > Jessie," Abacus will filter all the corresponding expenses. The image below shows expenses from Jessie in the Inbox waiting for final approval:

Within Live Reports, you'll note that you can now click the "+" button to add your report.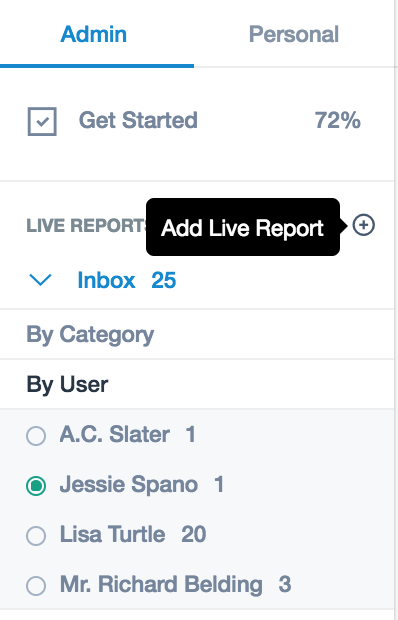 After selecting your filters, you can select "Save Report."

When you navigate to the "Live Reports" tab, you'll find the new saved report. The image below displays a saved report, "Pending Unapproved."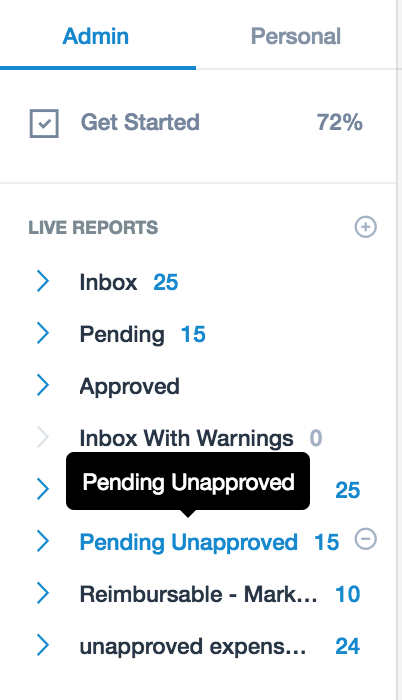 Filter Expenses Tool
You can also use our "Filter Expenses" tool to slice and dice your expense data in many ways, view your data in chart form, and export your search results to CSV or PDF.
To do so, click the "Filter Expenses" button to pop open your filter options: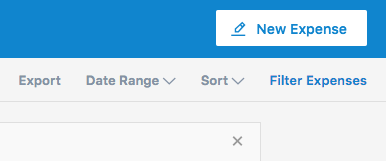 Your current list of available filters will expand, and by default have the section "Inbox." You can remove this filter by clicking on one of the other sections in the dropdown or clicking "x" next to the filter.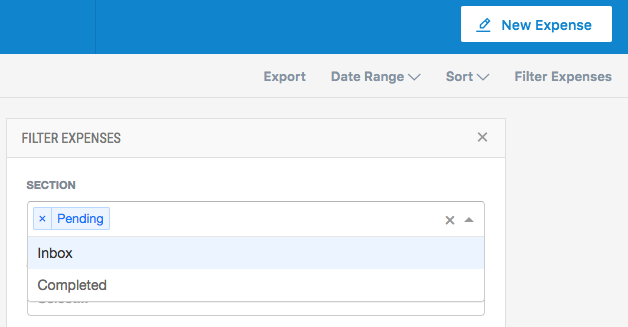 Adding multiple filters to your search
Add multiple filters by clicking on the down arrow to expand your filter options. The filters you apply will be listed at the top of your page. In this example the filters are Section: Inbox and Amount greater than $500:

Or, you can select multiple items within the same filter. In this example the filters are for expenses above $20 for expenses categorized as Airfare, Taxi, and Hotel: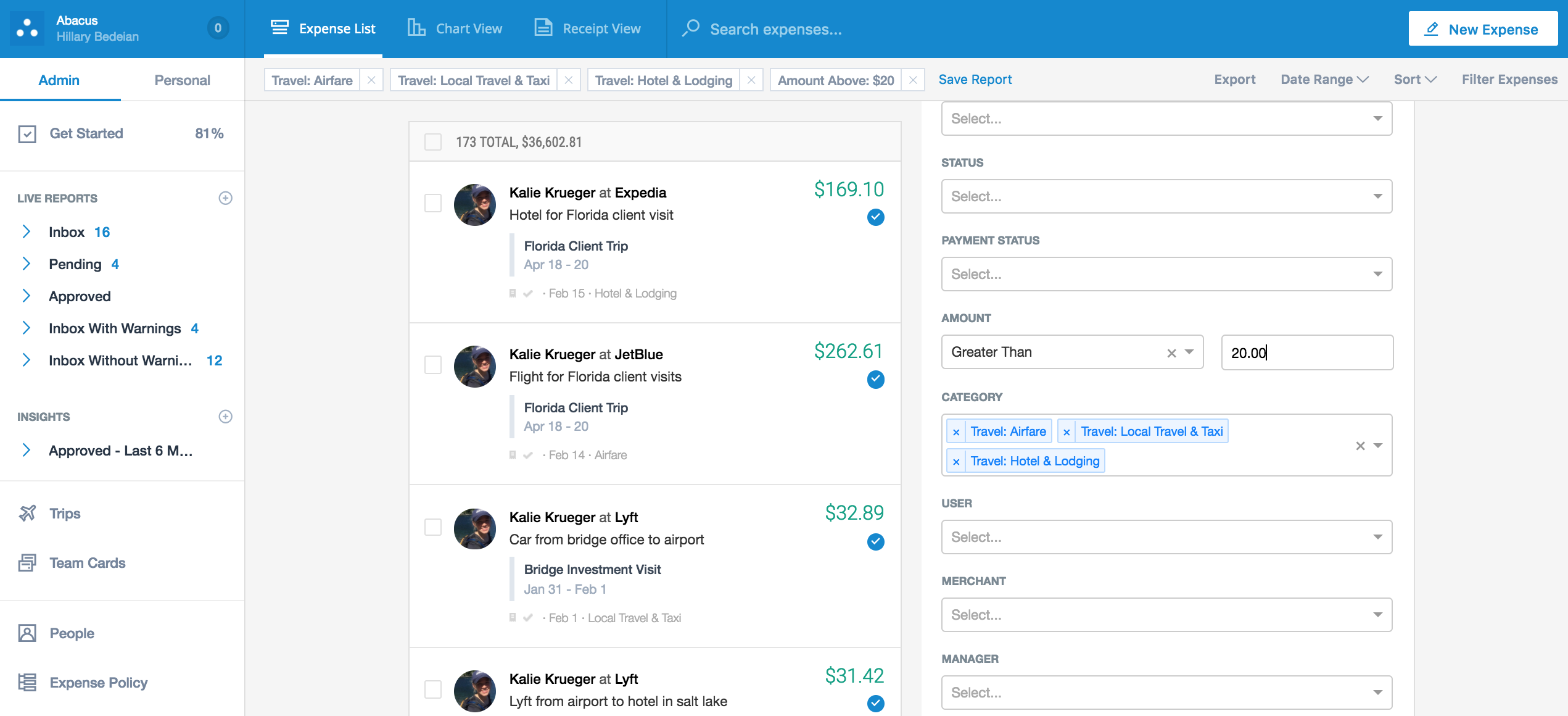 Save your search as a Live Report
Next to the filters you've selected at the top of our screen, click "Save Report" to save these filters in a report:

You'll be given the option to name and save your report: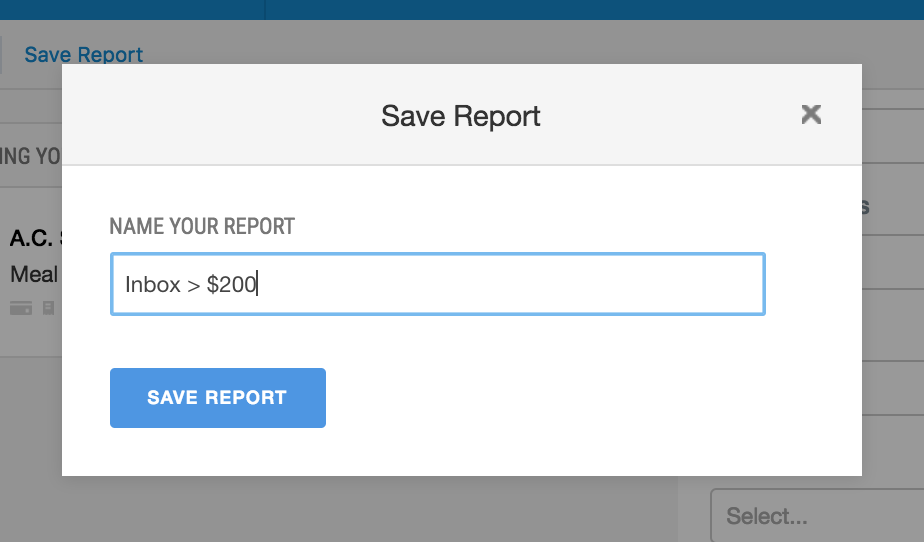 Now, each time you log in to your account, this report view will be available to you in your admin navigation bar: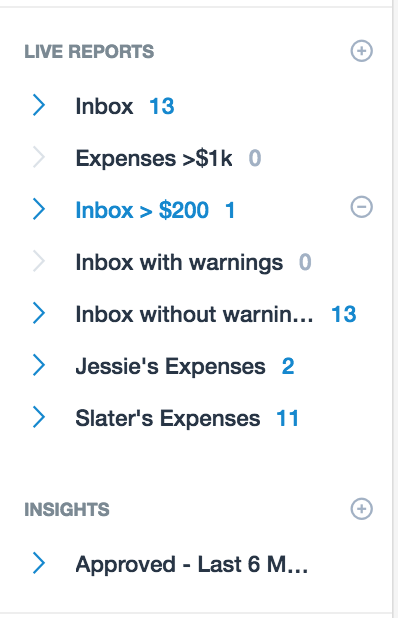 These Live Reports are specific to your account. Each admin in the account can customize their list of Live Reports.
Now you can either:
1. Review that feed of expenses (click through them and see each in detail). If you want to approve these in bulk, you can also select all of the expenses and then approve them all.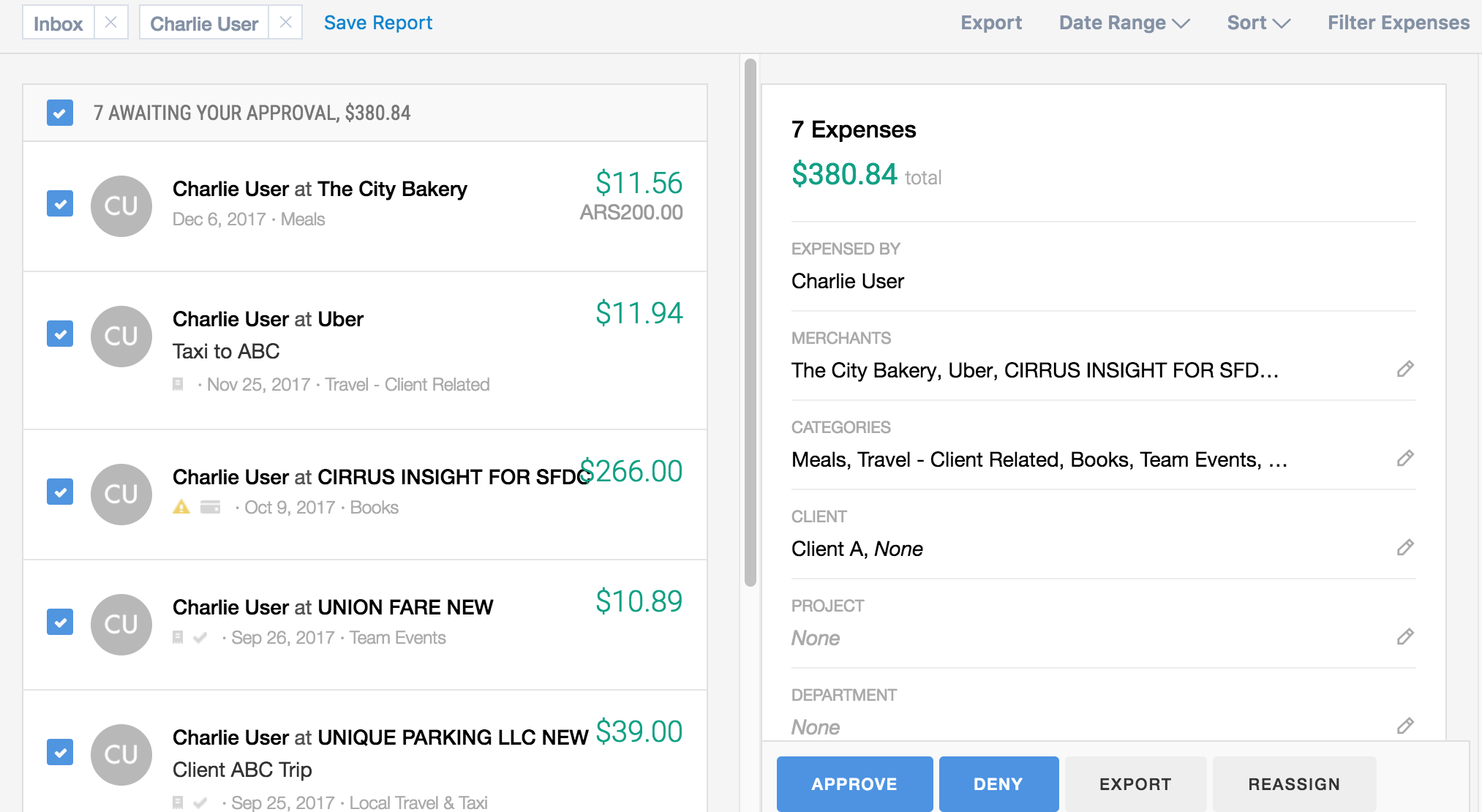 If your search results in more than 30 results, click the option to 'select all expenses that match this search.' This will allow you to Approve, Deny, Export, or Reassign in Bulk.
You can also take other bulk actions like edit the Merchant or Category. Click the pencil icon next to the field you'd like to edit in bulk:

Then make the change to all of the selected expenses:

2. Click on the ' Charts' Button that is in-line with the search bar and view a quick bar graph of that expense activity: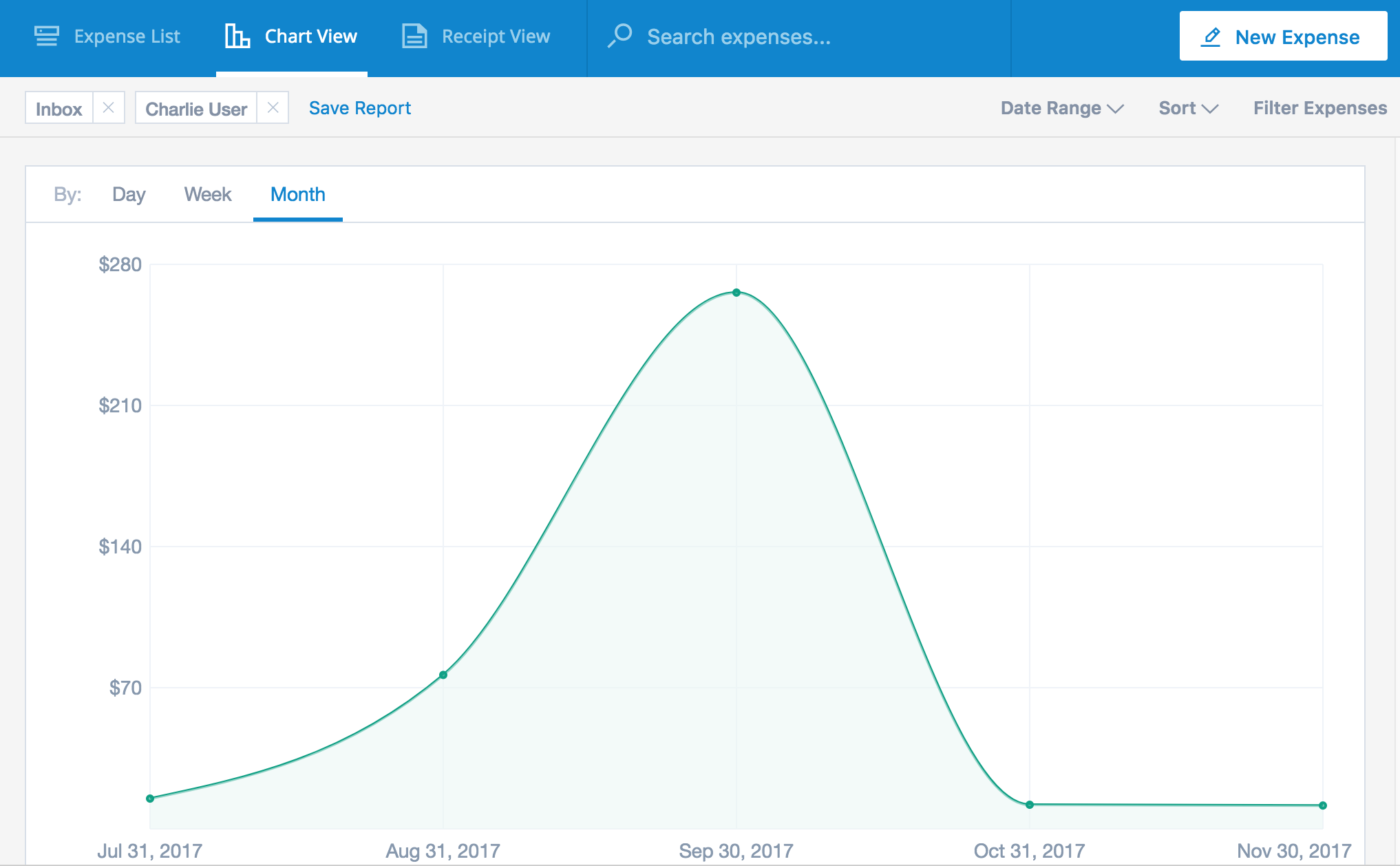 3. Export that data to a .CSV or a PDF via the Export button (also in-line with the search bar). Our reports are a great way for you to get the raw data and preserve it off-line or share it with a third party. Read more about Exporting Reports here.
Common uses of Search and Filtering:
View the Unapproved expenses by Custom Team or Expense Field
View expenses by Category over a certain Date Range
View expenses by Expense Field over a certain Date Range (and by User)
Give it a try and let us know if you have any questions on using the filtering tools: support@abacus.com