Managing your Emburse Card Program as an Admin
Virtual cards are a great way to capture spend that is currently on personal cards and increase visibility on spend you don't have control over.
This article shows you, an Abacus Administrator, how to manage your Emburse Card account.
Managing your Emburse Card Account
To view your virtual card program activity, balances, statements, and to make transfers, you can click on the three dots beside the card program on the 'Team Cards' page. This will automatically route you to your financial institution, where you can complete these actions.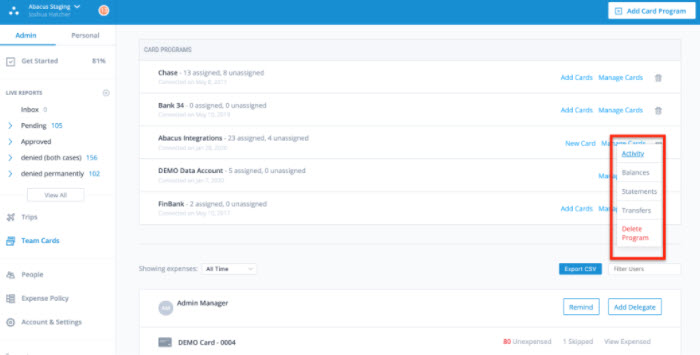 Setting Up an Emburse Card Rule
To ensure users submit their expenses in a timely manner, Admins can add Emburse Card Rules in the Expense Policy page to temporarily suspend a card. This rule can be applied for all cards in an organization or specific user.